Improving VB5/6 code decompiling and the further development of decompiling .NET in VB Decompiler v10.6
At each release of new version of VB Decompiler significantly improves the quality of decompilation. Version 10.6 was not the exception. Many tests have passed, we revealed the most rarely used functions, statements, and the combination of different kinds of procedures from MSVBVM60.DLL framework. Every moment carefully analyzed and all identified cases of incorrect decompilation successfully fixed. And now, VB Decompiler supports decompilation of the most important Runtime Library functions (previously unknown for the VB decompiler).
Support decompiling 56 new functions of MSVBVM60.DLL
Seriously, compatibility of the decompiler is much higher now! And each time getting closer when it will support all existing functions of MSVBVM and their variations. The support list is gradually growing, but in this version the quality of decompilation growth can be seen with the naked eye on any file.

Most of the changes have traditionally touched Native Code. But we also remember about the P-Code and improves it from version to version. A large part of the improvements carried out on the most frequently used methods and events of COM objects.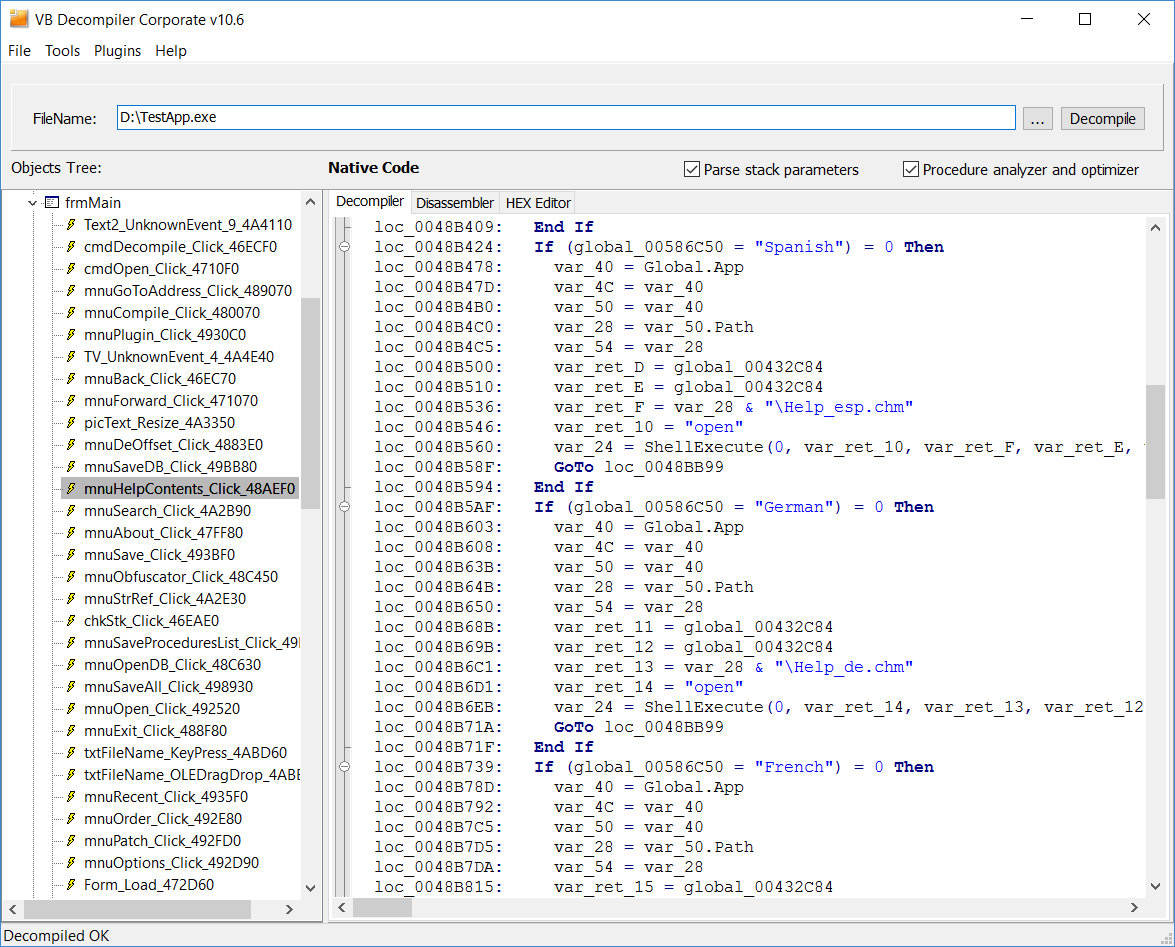 Support for the Case Else statements in the Native Code
More recently we began to support of the Select Case statements. But, despite all the tests, the strange case was detected when compiler using Else case itself (even if it did not written by the programmer). This case possible, when the compiler is insured from improper jump over an array of Select Case addresses and sets the address of the code that placed after the Select Case as a default place for the jumping to the missing Case address label. Now decompiler supports this compiler optimization!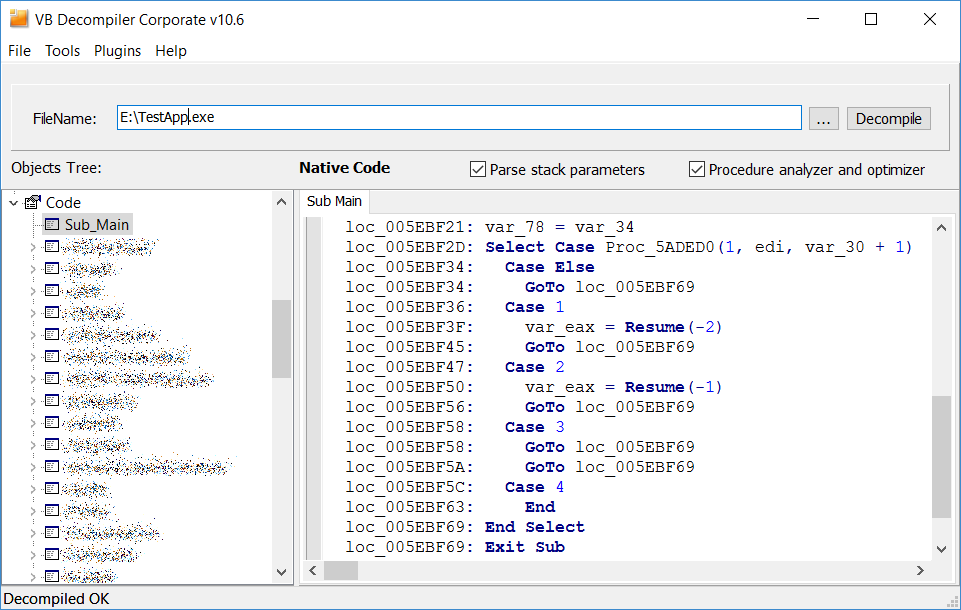 Significant improvements of the .NET decompiler
As you already know, VB Decompiler supports disassembling code of the .NET assemblies (VB, C #, etc.). At the same time, most people remember, what Decompiler allows you to view the entire tree of 45 .NET internal structures of the "~" heap. Previously, the contents of the tables added to the TreeView. It works so slow on the largest projects (low speed of the TreeView). Today we fix it! Now, the contents of each table shows as a list by clicking on each table name in the tree. Navigation has become more convenient, the speed has increased!

In addition to the above, we added viewing all string references of any .NET applications with their addresses in the file from the "#US" heap.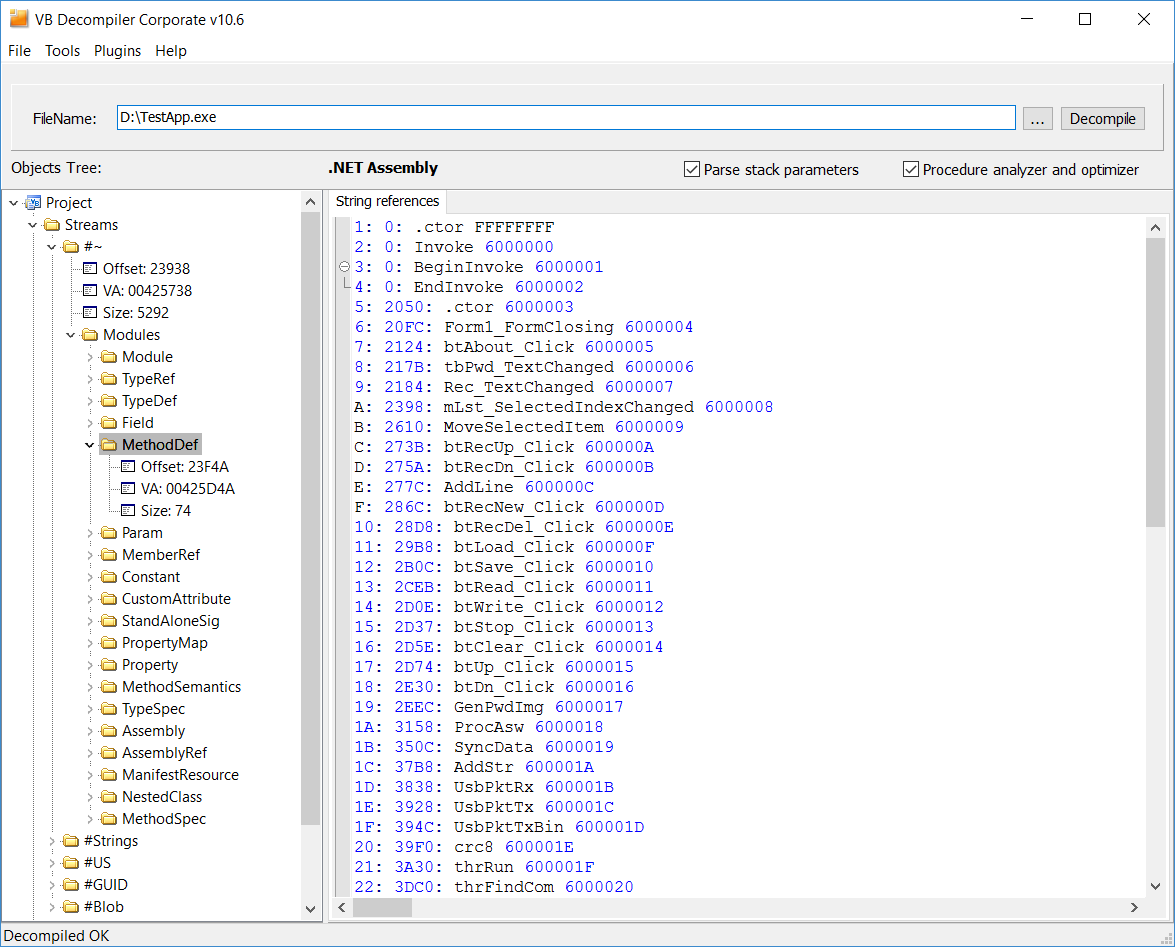 And as always - all found bugs have been fixed. Also we made various small but nice improvements! The new version can be downloaded as usual from the control panel (if your subscription for updates is active). If you have no active license - I will be glad to see you among our customers!
(C) Sergey Chubchenko, VB Decompiler's main developer