In English
VB Decompiler
VB Decompiler est un décompileur pour les programmes (EXE, DLL ou OCX) écrits en Visual Basic 5.0 et 6.0, c'est également un désassembleur pour les programmes écrits en technologie .NET. Comme vous le savez, les programmes en Visual Basic peuvent-être compilés en p-code interprété ou alors en code natif. L'assembleur .NET quand à lui compile en code IL compilable 'juste à temps (JiT)'.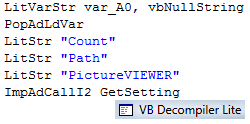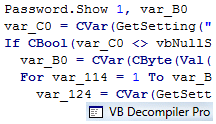 Du fait que le p-code consiste en plusieurs commandes de haut-niveau, il existe une réelle possibilité de le décompiler en code source (bien-sûr, les noms des variables et quelques fonctions ne seront pas décompilés). VB Decompiler restaure le code source à partir du p-code et ceci le plus précisemment possible. Et après quelques modifications, vous pourrez compiler le code ainsi généré.
Exemple de P-Code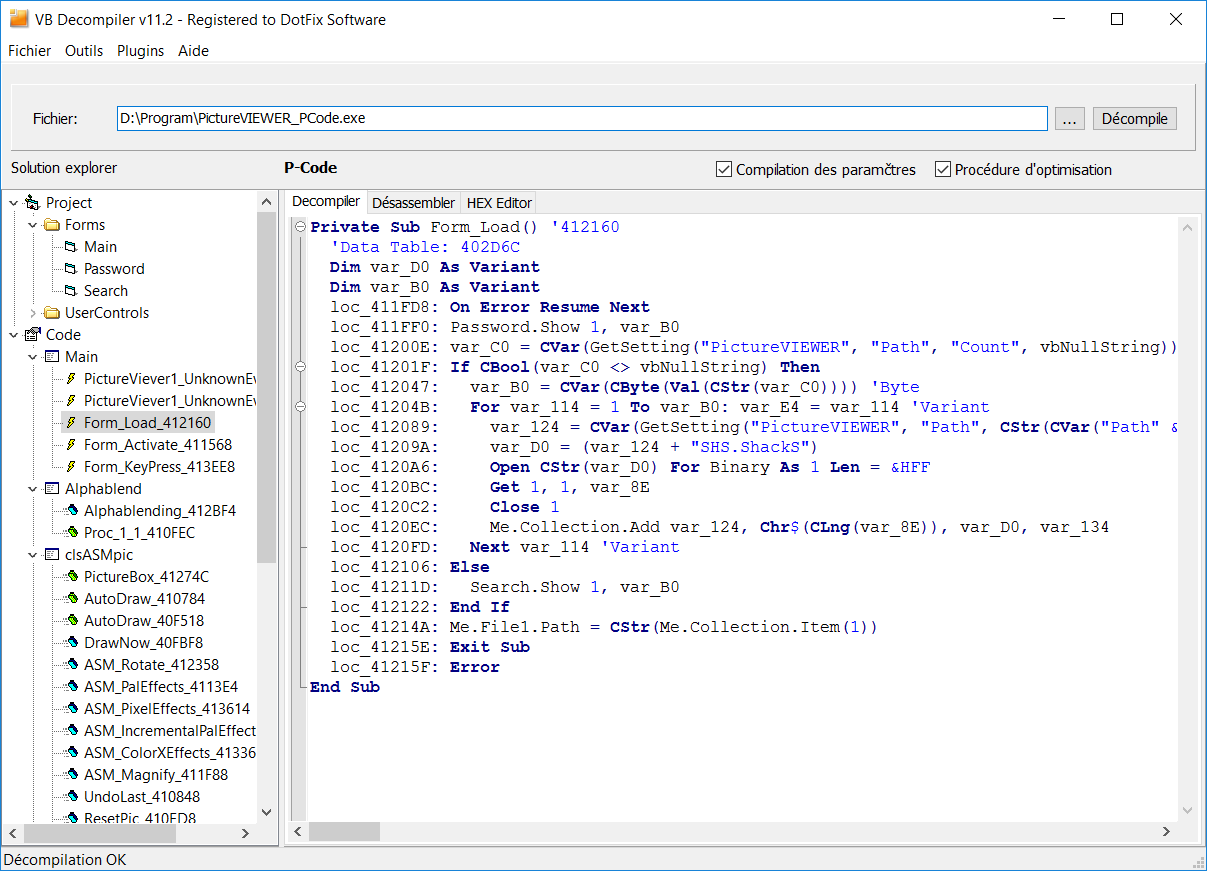 Si un programme a été compilé en code natif, restaurer l'intégralité du code source à partir des instructions machine n'est pas possible. Toutefois VB decompiler peut vous aider à analyser le programme même dans ce genre de situation. Il contient un puissant désassembleur ainsi qu'un émulateur. Ce puissant moteur est capable de décoder la plupart des instructions en assembleur en commandes VB. Bien-sûr, ceci ne fonctionne pas sur quelques optimisations du code assembleur et quelquefois il peut générer des instructions incorrectes. Mais à l'heure actuelle, c'est de loin la meilleure façon d'analyser le code natif des applications.
Exemple De Code Indigene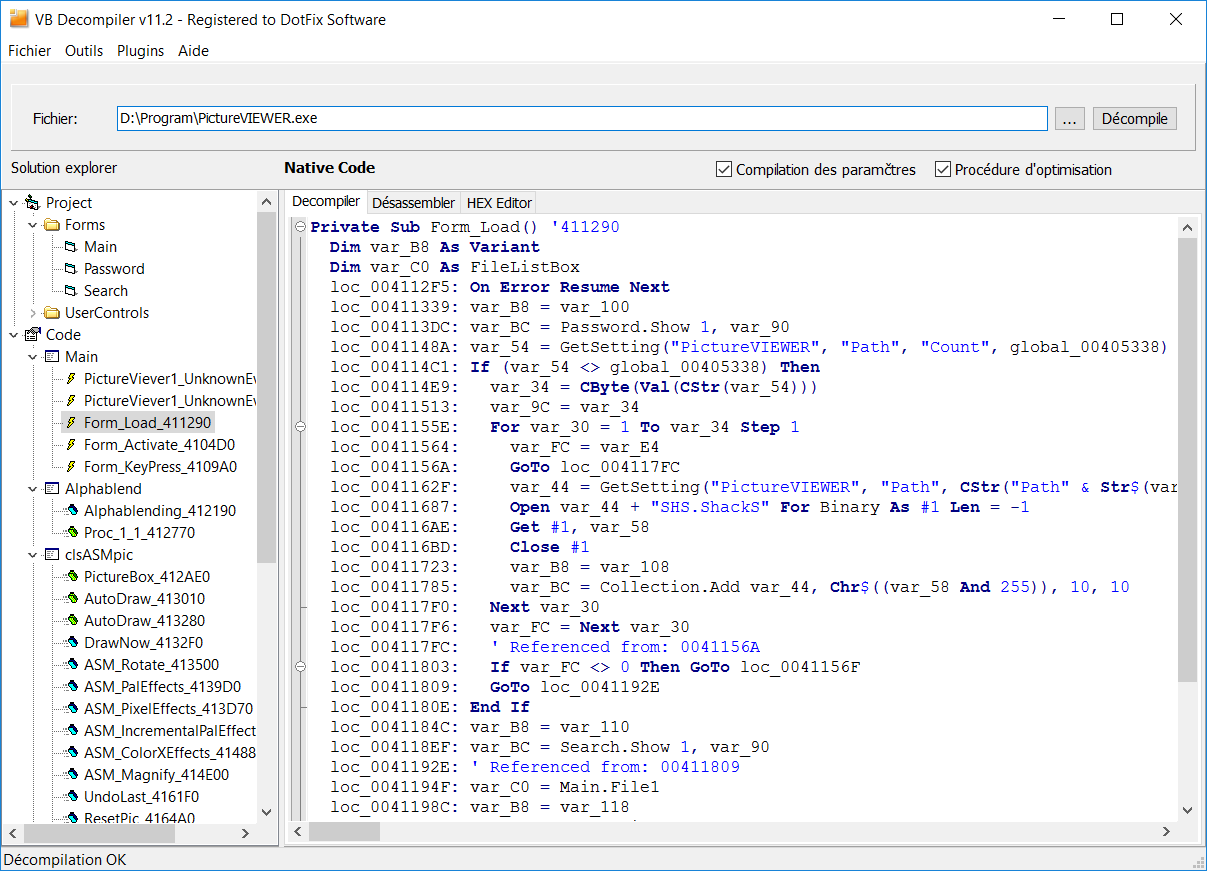 Si un programme a été compilé en assembleur .NET, VB Decompiler retrouvera toutes les tables et tous les modules gérés par l'assembleur, il désassemblera en utilisant plusieurs méthodes, les fonctions et évenements en utilisant le désassembleur IL. .NET Framework n'est pas requis pour la décompilation. La décompilation fonctionne sur tous les systèmes d'exploitation Windows 32 bits.
.NET Example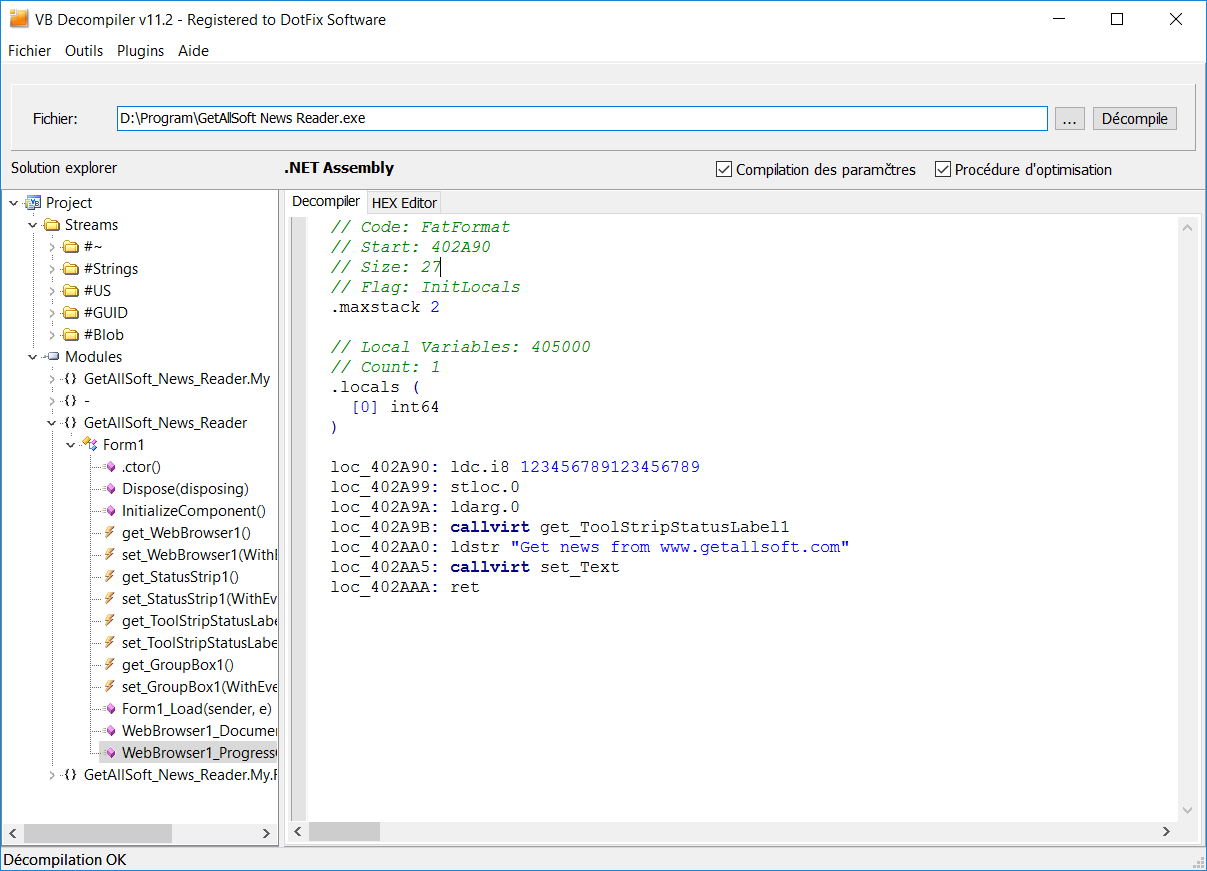 VB Decompiler also decompile all GUI Forms and UserControls presented in file. For technical use decompiler may show offsets of all controls.
Forms Example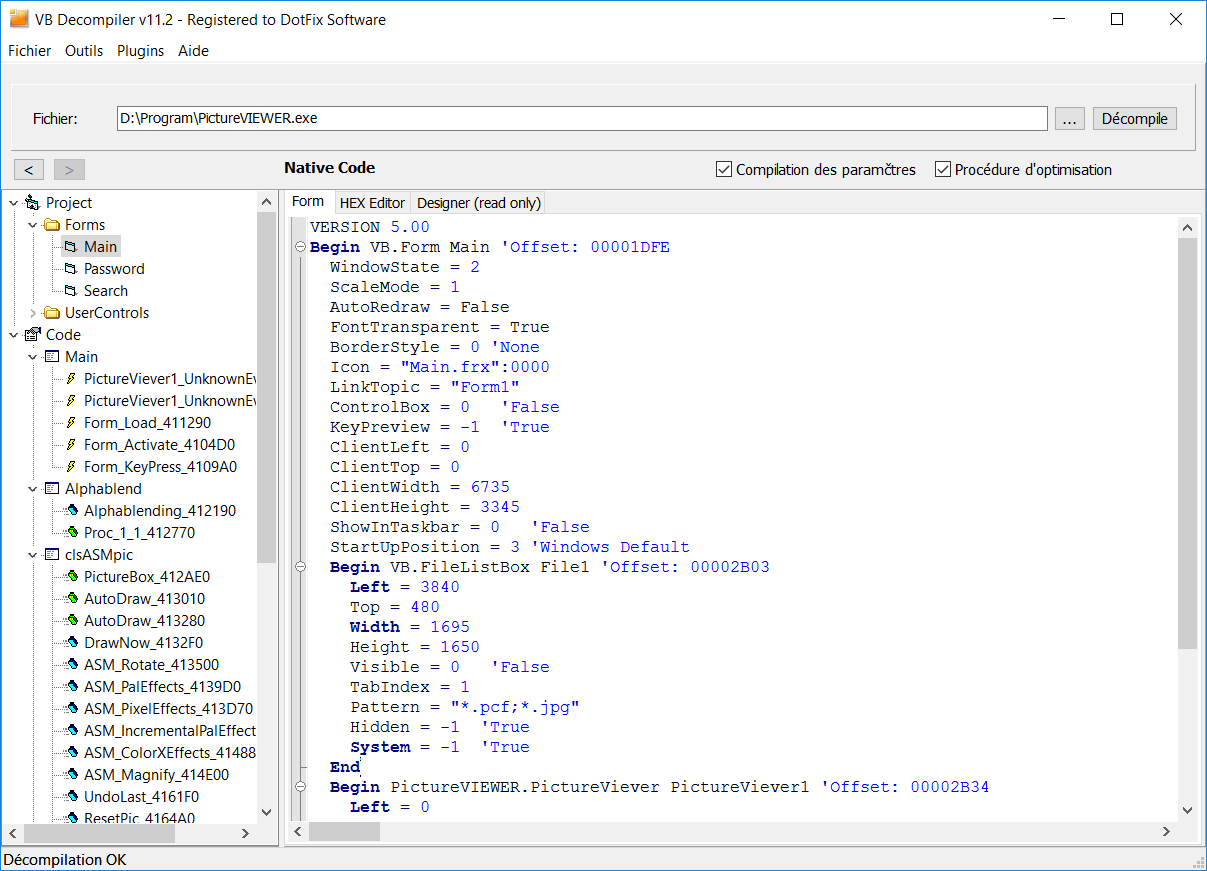 De manière générale, VB Decompiler est l'outil idéal pour l'analyse des programmes et il se montrera parfait si vous désirez retrouver le code source d'un projet que vous avez égaré .
Le Decompilateur de VB a 2 versions differentes: Lite et Pro
Actual comparison chart is here (in English)
| | | |
| --- | --- | --- |
| Features of VB Decompiler | Lite | Pro |
| Decompiling of the forms (frm and frx) and usercontrols (ctl, ctx) | | |
| Code decompilation for the P-Code compiled applications. Recovery pseudo code to the standard Visual Basic instructions with a highest success rate. Processing COM OLE objects, API calls, etc. | | |
| Native Code procedures disassembling (with powerfull Pentium Pro disassembler, with support of the MMX and FPU instruction sets) | | |
| Partially Native Code decompilation (using code emulation engine) | | |
| Disassembling Visual Studio .NET (VB, C#, etc.) applications | | |
| Universal x86 unpacker for packed applications (supported UPX, NSPack and other popular compressing tools) | | |
| Two decompilation schemes (with and without stack parsing) | | |
| Recovery and edit the String References with unicode support | | |
| Syntax coloring in decompiled code | | |
| Recovery API calls. Recovery prototypes of most standard Win32 APIs | | |
| Fast decompilation scheme | | |
| Anti-decompilation features to protect your software (obfuscator) | | |
| Powerfull HEX Editor with Copy/Paste and Undo/Redo features | | |
| Save a decompiled data to the single file | | |
| Save procedures list to the MAP file, IDA script or to the HIEW Names file | | |
| Price | | |
Minimum System Requirements
(for v8.4 or older): Pentium 166, 32Mb RAM, Windows 95/98/ME/2k/XP/2003/Vista/2008/7/8/8.1/10
Minimum System Requirements
(for v9.0 or later): 1,3 Ghz x86 processor, 1Gb RAM, Windows XP/2003/Vista/2008/7/8/8.1/10
Screenshots of VB Decompiler Pro:
* Microsoft, Windows, and Visual Basic are registered trademarks of Microsoft Corporation.