In English
VB Decompiler
VB Decompiler ist Decompiler fur Programme (EXE, DLL oder OCX), die in Visual Basic 5.0 oder 6.0 geschrieben wurden und Disassemblier fur Programme die mit .NET Technology erstellt wurden. Wenn Sie wissen, Visual Basic - Programme konnen in interpretier p-code kompiliert werden oder in Native Code. .NET assembly always compiled to just in time compilable IL code.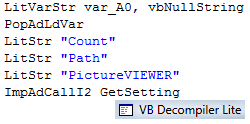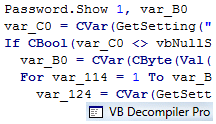 Da der P-Code aus high-level Befehlen besteht, gibt es eine Möglichkeit den Quelltext zu dekompilieren (selbstverständlich sind die Namen von Variablen, von Funktionen,... nicht zu dekompilieren). Der VB Decompiler stellt viele P-Code Befehle wieder her und obwohl es einen langen Weg zum Erzeugen des Quellcodes gibt, der kompiliert werden kann, der Decompiler analysiert viel einfacher und stellt teilweise den Quelltext wieder her.
P-Code Example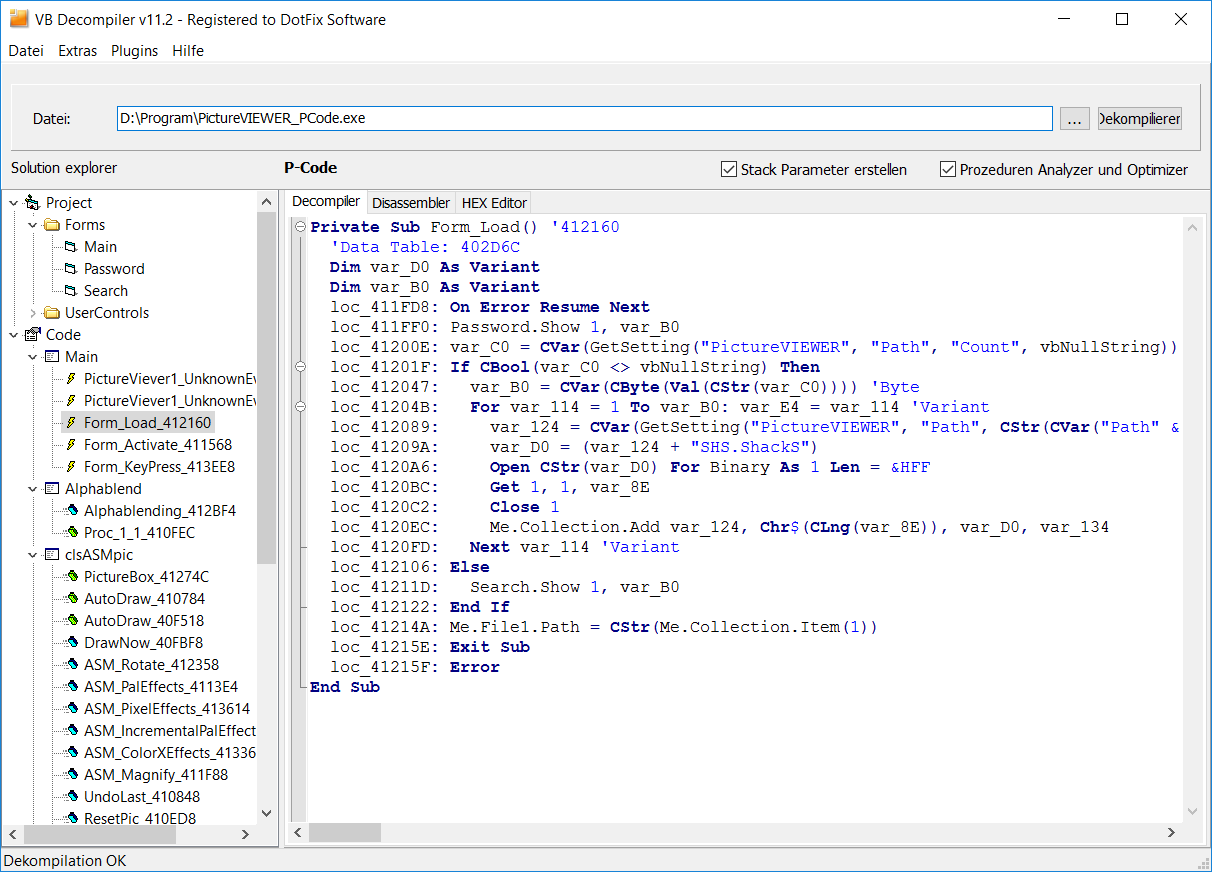 Falls ein Programm in Maschinencode (native code) kompiliert wurde, ist das Wiederherstellen des Quellcodes nicht möglich. Aber der VB Decompiler kann helfen, das Programm sogar in dieser Situation zu analysieren. Es enthält einen leistungsfähigen Disassembler, der Pentium-Pro Befehle einschließlich MMX und SSE unterstürzt. Es erlaubt ihnen, alle Funktionen zu disassemblieren. Es gibt auch einen Codeanalysator, der nach allen API Funktionen Aufrufe und String References in den disassemblierten Code sucht und ändert sie in Comments für analysierte Strings.
Native Code Example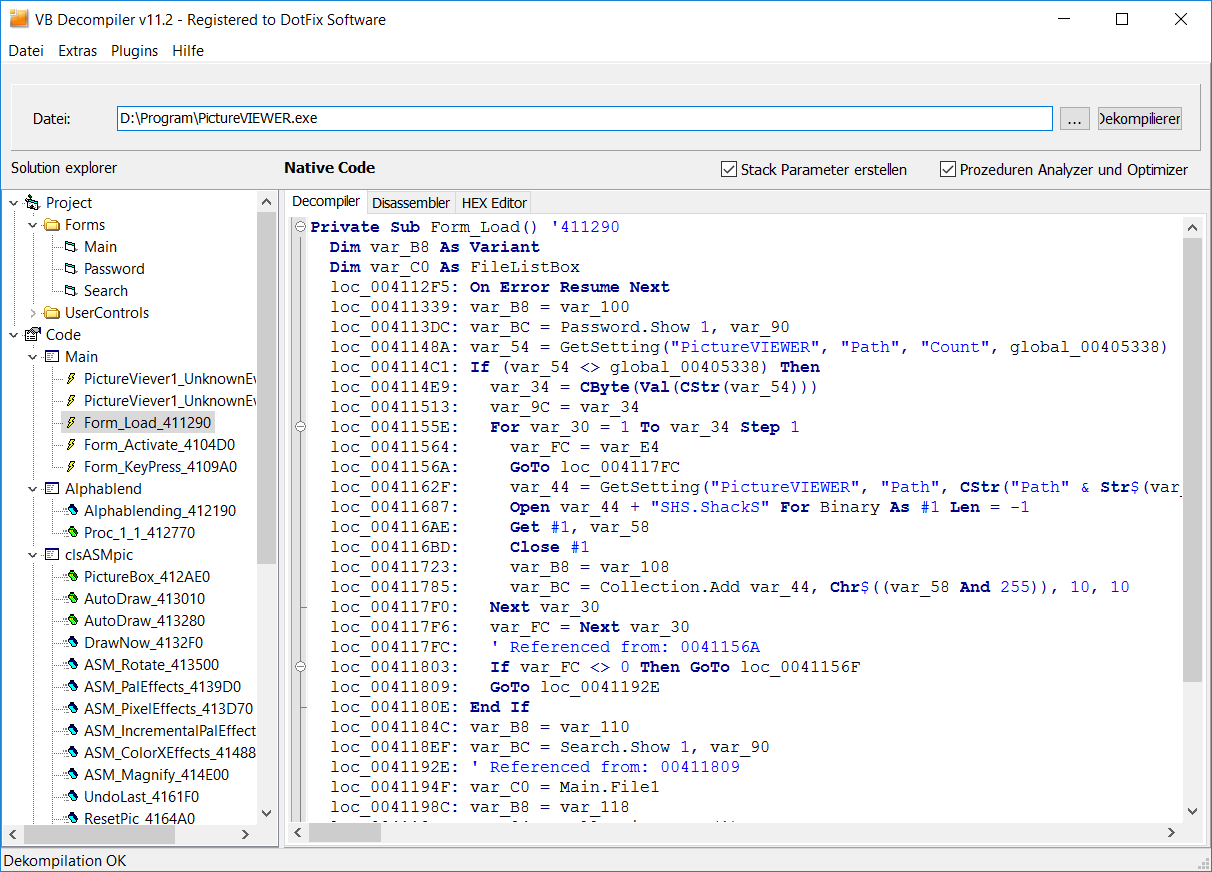 Wenn die Programme in .NET kompiliert wurden, wird Decompiler alle Tabelle und Modules in verwaltetes Assembling widerherstellen und disassembliert alle Methoden, die Funktionen und Ereignisse mit IL Disassemblier. .NET Framework ist nicht erforderlich, fur die Dekomprimierung. Dekomprimierung ist unterstutzt an alle Windows 32-Bit-Betriebssysteme.
.NET Example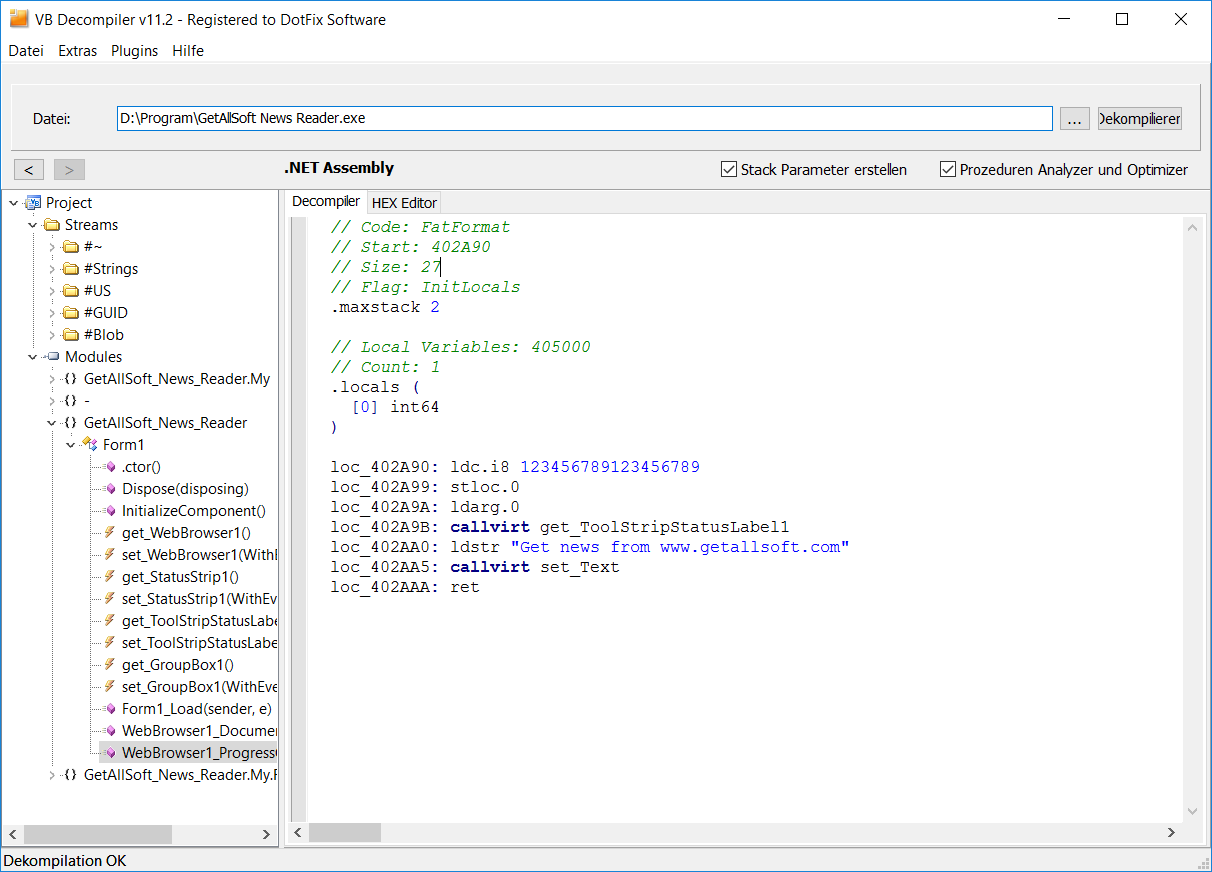 VB Decompiler also decompile all GUI Forms and UserControls presented in file. For technical use decompiler may show offsets of all controls.
Forms Example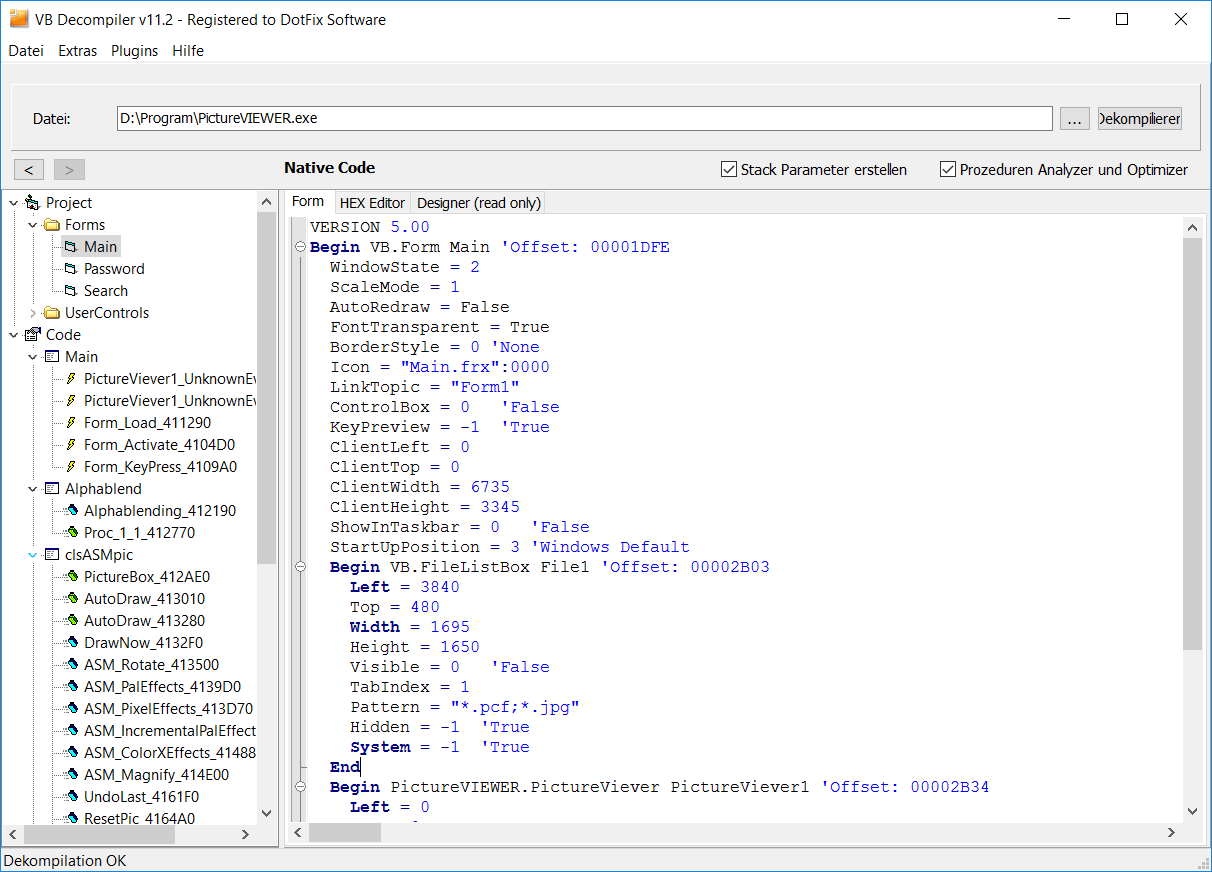 Im Allgemeinem ist der VB Decompiler ein ideales Werkzeug für das Analysieren von Programmen und er ist perfekt, wenn sie einen verlorenen gegangenen Quelltext teilweise wieder herstellen müssen.
VB Decompiler has 2 different versions: Lite and Pro
Actual comparison chart is here (in English)
| | | |
| --- | --- | --- |
| Features of VB Decompiler | Lite | Pro |
| Decompiling of the forms (frm and frx) and usercontrols (ctl, ctx) | | |
| Code decompilation for the P-Code compiled applications. Recovery pseudo code to the standard Visual Basic instructions with a highest success rate. Processing COM OLE objects, API calls, etc. | | |
| Native Code procedures disassembling (with powerfull Pentium Pro disassembler, with support of the MMX and FPU instruction sets) | | |
| Partially Native Code decompilation (using code emulation engine) | | |
| Disassembling Visual Studio .NET (VB, C#, etc.) applications | | |
| Universal x86 unpacker for packed applications (supported UPX, NSPack and other popular compressing tools) | | |
| Two decompilation schemes (with and without stack parsing) | | |
| Recovery and edit the String References with unicode support | | |
| Syntax coloring in decompiled code | | |
| Recovery API calls. Recovery prototypes of most standard Win32 APIs | | |
| Fast decompilation scheme | | |
| Anti-decompilation features to protect your software (obfuscator) | | |
| Powerfull HEX Editor with Copy/Paste and Undo/Redo features | | |
| Save a decompiled data to the single file | | |
| Save procedures list to the MAP file, IDA script or to the HIEW Names file | | |
| Price | | |
Minimum System Requirements
(for v8.4 or older): Pentium 166, 32Mb RAM, Windows 95/98/ME/2k/XP/2003/Vista/2008/7/8/8.1/10
Minimum System Requirements
(for v9.0 or later): 1,3 Ghz x86 processor, 1Gb RAM, Windows XP/2003/Vista/2008/7/8/8.1/10
Screenshots of VB Decompiler Pro:
* Microsoft, Windows, and Visual Basic are registered trademarks of Microsoft Corporation.